Some text some message..
Key Features
✓ Skin Type: Dry, Normal, Combination
✓ Skin Concerns: Dullness, Textured & Uneven Skin
✓ Certifications: Derma Tested
✓ Peta Certified: Yes
✓ Vegetarian: Yes
✓ Every-Day Boost Of Hydration
The body wash gently cleanses while restoring moisture to your skin, leaving you feeling soft and rejuvenated. The underarm roll-on provides all-day protection against odor causing bacteria while leaving you with a cool, long lasting fragrance. Stay fresh and hydrated all day with aquafresh!
Hero Ingredients
Hydrating Body Wash

Pentavitin: Provides a burst of hydration to the skin, strengthens the skins barrier
Zemea: Provides intense hydration, improves the appearance of the skin
Niacinamide & Hyaluronic Acid: Reduces skin inflammation and promotes a healthy skin barrier

Underarm Roll On

Unique Blend of AHAs: Gently exfoliates skin and fight body odour.
Mandelic Acid: Helps with treating hyperpigmentation and dark spots.
Lactic Acid: Removes dead skin cell accumulation and lightens dark spots.
How To Use
Take a coin-sized body wash on your loofah and apply it to your body. Wash off the lather. Post bath, pat your body dry and follow it up with the underarm roll on!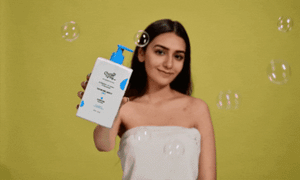 <b>Hydrating Body Wash:</b> Purified Water, Sodium C14-16 Olefin Sulphonate, Decyl Glucoside, Cocamidopropyl Betaine, Acrylate Co-Polymer, Propanediol, Glycerine, Polysorbate 80, Fragrance, Saccharide Isomerate, Citric Acid, Sodium Citrate, Niacinamide, Betaine, Phenoxyethanol, Lactic acid, Cellulose Beads, Sodium Hyaluronate, Rice (Oryza Sativa) Phytoceramide, Zaminkand Root (Amorphophallus Konjac) Phytoceramide, Phospholipids, Sphingolipids, Sodium Hydroxide, Sodium Polyacrylate & Sodium Polyacryloyldimethyl Taurate, Disodium EDTA

<br>
<br>

<b>Underarm Roll On:</b> Purified Water, Lactic Acid, Fragrance,Propanediol, Mandelic Acid, Phenoxyethanol, Polysorbate-80, Xanthan Gum, Allantoin, 3-O-Ethyl Ascorbic Acid, Sodium Hyaluronate, Rice (Oryza Sativa) Phytoceramides, Konjac(Amorphophallus) Phytoceramides, Phospholipids, Sphingolipids, Di-Sodium EDTA
Clinical Trials are a very crucial aspect of our product development process. All our products are tried and tested on real (willing) humans including our founders and their families. The products only hit the market when they are tested and approved by over 200 genuine participants. These real customer insights also help us improvise on our products when they are not up to their desired requirements.
Frequently Bought Together