Some text some message..
Key Features
✓ Skin Type: All
✓ Skin Concerns: Textured & Saggy Skin
✓ pH Value: 4.5-5
✓ Certifications: Dermatologically Tested
✓ Peta Certified: Yes
✓ Vegetarian: Yes
• An everyday use body lotion that's infused with Anti-Aging Properties with Retinol at its essence. It also contains Niacinamide and Zemea.

• The ultimate skin soothing & moisturising ingredients that provide aid to refining those fine lines and combating other signs of aging; sun spots, saggy skin, etc.

• It is made on a base of essential, plant-based ceramides; Konjac & Rice.
Hero Ingredients
This Anti-Ageing Body Lotion is enriched with:

• Retinol
Improves the skin's elasticity to reveal a firmer-looking skin.

• Niacinamide
Works with the natural substances in your skin to aid cell regeneration, and protect your skin from environmental stressors

• Shea Butter & Zemea
Premium ingredients for soft and supple skin "
How To Use
For best results, use our ceramides-based body lotion all over your body; hands, arms, legs, stomach, etc. If required, you can use it multiple times a day for a quick hydration boost.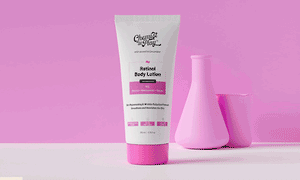 Purified Water, Helianthus Annuus Seed Oil, Propanediol, C 13-14 Isoparaffin & Laureth-7, Glyceryl Monostearate, Stearic Acid, Cetearyl Alcohol & Polysorbate-60, Cyclopentasiloxane & Dimethicone, Butyrospermum Parkii (Shea) Butter, Niacinamide, Cetyl Alcohol, Iso-Propyl Myristate, Phenoxyethanol, Fragrance, Retinol, Tocopheryl Acetate, Glycerine, Rice (Oryza Sativa) Phytoceramides, Phospholipids, Sphingolipids, Disodium EDTA
Clinical Trials are a very crucial aspect of our product development process. All our products are tried and tested on real (willing) humans including our founders and their families. The products only hit the market when they are tested and approved by over 200 genuine participants. These real customer insights also help us improvise on our products when they are not up to their desired requirements.
FAQs About Anti-Aging Body Lotion
If you're looking for an anti-aging body lotion that packs a punch, look no further than Chemist at Play. The lotion is infused with retinol, niacinamide, and zemea - all powerful ingredients that have been shown to help refine fine lines, combat sun spots and saggy skin, and more.
Chemist at Play anti-aging body lotion is formulated with skin-firming ingredients like retinol, niacinamide, shea butter, and zemea. All these ingredients work together in skin cell generation; giving you soft and fine-lines-free skin. The base of this lotion is made with plant-based ceramides like Konjac and rice.
The anti-aging body lotion is designed for all skin types but is best suited for people with textured and saggy skin helping to refine those fine lines.
The pH stands for the potential of hydrogen. Every part of our body has a pH level. The pH of the skin is measured on a pH bar where pH 0 indicates acidic and pH 14 indicates alkaline. The skin's pH is important for maintaining the balance of acidity and alkalinity that protects us from germs, elements, and toxic substances. The ideal skin pH for women is between 4.5 and 5.5, which is considered acidic.
No body lotion can stop the aging process, but the right one can help improve the appearance of aging skin by repairing and rehydrating it. Chemists at Play body lotion can help improve skin elasticity by combating the signs of aging.
Aging is a natural process. As we age, our skin begins to lose its elasticity and firmness, resulting in wrinkles and fine lines. To protect your skin from aging make sure you cleanse your skin regularly and apply a good sunscreen when you go outside. Additionally, you should try to avoid exposure to harmful environmental factors, such as smoke and pollution. Eating a healthy diet and getting enough sleep are also important for keeping your skin looking its best. If you take good care of your skin, you can help keep it looking young and healthy for many years to come.
Retinol is a powerful ingredient that has anti-aging properties and is a form of Vitamin A. It works by stimulating the production of new skin cells and increasing collagen production, which helps to reduce the appearance of wrinkles and fine lines. Retinol can also help to improve the texture of the skin and give it a more youthful appearance.
Our lotion is made with only the best ingredients that have been dermatologically tested and approved by 200 real human beings. Not to mention, our anti-aging body lotion contains premium ingredients that are PETA-certified and vegetarian.
Frequently Bought Together
Love it !!
The first lotion that beat the humid Delhi weather. I do not have dry skin, yet the lotion was absorbed in my skin within 15 secs, and no sweat, no oily feeling on the skin, yet extremely moisturising.
Love it
I am regular user of innovist brand chemist at play underarm roll on , exfoliating bodywash n retinol body moisturizer loved these products , they work for my skin.
It's good
It's really good but the container is not good as the cream does not come out properly.its quite thick also.