Some text some message..
Key Features
✓ Skin Type: Dry, Rough & Patchy Skin
✓ Skin Concerns: Pigmentation, Dark Spots
✓ pH Value: 4.0
✓ Certifications: Dermatologically Tested
✓ Peta Certified: Yes
✓ Vegetarian: Yes
Clarify. Brighten. Hydrate

This Neck, Knee, Elbow Brightening Roll On is an effective solution formulated to restore skin tone, texture & the abnormal darkening and thickening of the skin in the knees, neck and elbows.

The serum is formulated with the scientific blend of Lactic acid which helps to mildly exfoliate skin without causing any irritation. It also has Vitamin C for brightening skin tone & Niacinamide to even out skin tone and improve skin texture. The Mandelic Acid present in the product aids in exfoliating and to lighten skin tone.
Hero Ingredients
Lactic Acid
Lactic Acid acts as a mild exfoliator & helps remove dry and dead skin cells without causing any skin irritation.

Niacinamide
Works with the natural substances in your skin to aid cell regeneration, and protect your skin from environmental stressors alongside brightening and evening out skin tone.

Hyaluronic Acid
Provides your skin with instant & long-lasting hydration and moisturization.

Mandelic Acid
Known for its skin lightening and exfoliation properties.

Vitamin C
Helps in skin brightening.
How To Use
Cleanse the effected area and pat dry. Apply the required amount of serum using the roll on and massage gently using finger tips to get it absorbed properly. Use it regularly AM/PM for best results.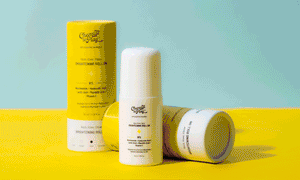 Purified Water, Lactic Acid, Propanediol, Mandelic Acid, Niacinamide, Phenoxyethanol, Xanthan Gum, Allantoin, 3-0-Ethyl Ascorbic Acid, Sodium Hyaluronate, Rice (Oryza Sativa) Phytoceramides, Konjac (Amorphophallus) Phytoceramide, Phospholipids, Sphingolipids, Fragrance, Disodium EDTA
Clinical Trials are a very crucial aspect of our product development process. All our products are tried and tested on real (willing) humans including our founders and their families. The products only hit the market when they are tested and approved by over 200 genuine participants. These real customer insights also help us improvise on our products when they are not up to their desired requirements.
FAQs About Neck, Knee, Elbow Brightening Roll On
Visible results can be seen in 4 weeks of recommended application
Dark neck, knees and elbows are often mistaken as tanned body parts and are thus subject to treatments that are not meant to solve this concern. This product, with its clinically proven ingredients, works on treating the dark, scaly and rough nature of the skin in these areas and helps to make the skin tone even with the rest of your body.
Frequently Bought Together
Visible results
Results will be visible in after 2 weeks.. One of the best product.
Rolling to Stronger Knees: My Impressions
Keep rolling, keep your elbows rejoicing.
Twin Radiance Roll-On Marvel
Enables me to enjoy my favorite activities with my knees at their best.
Neck Revive Roll-On Unveiled
Keep your knees smiling with this luxurious roll-on.
The Elbow Brightening Revolution
My knees feel years younger after using this roll-on.